In today's inflationary economy, more and more cash-strapped Americans are looking for sources of additional income.  Business opportunity seekers are literally everywhere trying to make ends meet and that industry is exploding.  Unfortunately, most new home businesses require some type of significant investment.  Additionally, most will also require some type of  training.  And finally, the $64,000 question surfaces;  "How much money can I make in this new business opportunity?"
But what if there was a business related to a great, proven industry almost anyone can become part of?  And what if those involved in that industry, on a career basis, earned on average over $120,000 per year?  And here is the  icing on the cake.  What if you could get involved with this industry for under ten dollars ($10)?  Would that pique your interested?   Well if so, welcome to the business of factoring and the business of becoming a freelance factoring broker.
What is Factoring?
Factoring is big business. Factoring is a highly respected and time-honored method of business finance.  It is a powerful tool used by businesses that operate B2B (business-to-business) and invoice for services provided or goods delivered.  Factoring is part of the enormous asset-based finance industry and represent trillions of dollars in financing worldwide.  Factors provide cash flow solutions to business owners that offer attractive payment terms to customers but then face their own cash dilemma when they are forced to wait 30, 45, 60 days to finally receive the checks from customers for payment.   Simply put, factoring the business accounts receivable (invoices) eliminates that problem.
What is a Factoring Broker?
Just like banks have loan officers that source clients for loans, factors have business development officers (BDOs) that do exactly the same thing.  BDOs market their factoring services to small to mid-size business owners. Unlike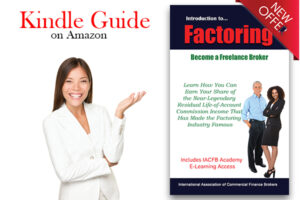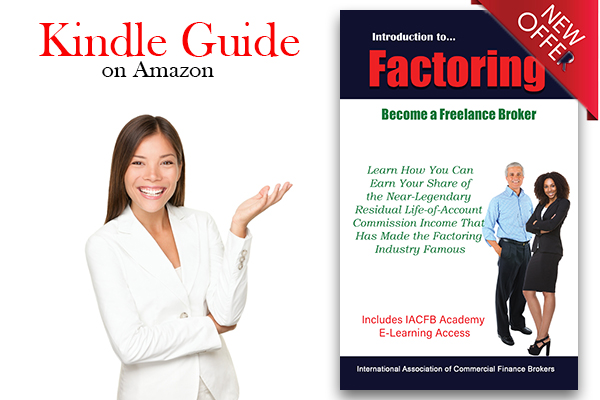 typical banks, however, factors employ another powerful tool when it comes to landing new clients.  Factors pay for leads.  In fact, virtually all factors seek to build networks of referrers, semi-professional brokers, and career professional commercial finance consultants that act as "middlemen", explaining the benefits of factoring to business owners and then introduce those owners to an appropriate factoring firm.  For their introduction, such freelance brokers are paid a "finders fee" in the form of a commission.  And here is the clincher that attracts many to the industry.  Such factoring commissions paid to the factoring broker of record are residual commissions and are paid for the life of the business account.
How to Start a Factoring Broker Business for Under $10 on Amazon
So can you actually start a factoring broker business for under $10.  Well, the answer to that question is a resounding "YES"!   At least you can today with a recent Kindle publication you can find on Amazon right now. An Introduction to Factoring from the IACFB Academy, provides readers with everything you will need to know about the factoring industry for new brokers.  This multi-chapter text is published by the IACFB, the International Association of Commercial Finance Brokers, and is published in Kindle format, which allows you to download and begin training using almost any cell phone of e-pub reading device.  And the great cost is that since it is a Kindle, it is available for just $9.99.  So what about marketing?
Factoring Broker Marketing on the IACFB Magazine
So now your in business. And your in business for under $10.  You've read the guide and have learned all about factoring.  But how about some "how to's" and tips for marketing your new home business.  What about generating leads?  Well, IACFB has you covered there as well with their always popular IACFB Magazine at Commercial Finance Consultants.com.  With over 175 interest articles focused on the career of business development in the factoring industry and many authored especially for those NEW to the industry, Commercial Finance Consultants is the place to go to launch your new business quickly and successfully.  And the great news is that the magazine is absolutely FREE.  And you, have now started a "REAL" home-based, with exceptional income potential, and you've done so for under $10, with the help of IACFB and an Amazon Kindle publication.