Welcome to the Campus Bookstore.  You will find all of these titles featured below highly rated by factoring consultants like you.  If you find any book that you find to be exceptionally
beneficial to you after reading it, let others in the membership know by posting your review in the IACFB LinkedIn Forum. 
Since most books in the Academy Bookstore are available as Kindles, one of the BEST investments you will make as a freelance consultant is a quality  Kindle Reader.  This productivity tool saves not only time but money as well as all Kindle publications are just a small portion of print books.  Our choice of Kindle reader is the Amazon Fire Tablet because of the many addition features when compared to a standard Kindle.  It's your choice but if you do not already have a Kindle, make the investment as quickly as possible. 
Kindle Low Cost or FREE Additional Marketing Support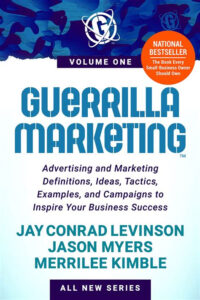 Guerrilla Marketers are unique, and they know it and promote it. Therefore, Jason Myers and Merrilee Kimble had to ask themselves: "How can we make this book unique?" After all, Guerrilla Marketing, since the original Guerrilla Marketing book was introduced by Jay Conrad Levinson in 1984, has supported and empowered entrepreneurs, small and medium sized businesses, solopreneurs, and people with ideas that they think can be a business.  Where does it all begin? That's a simple answer: with a strong foundation of Guerrilla Marketing.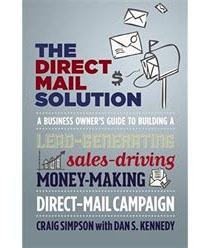 Fact: More commerce and wealth is created by direct mail than by any other media (true before the internet and true now)
Direct mail continues to delivers the best ROI for customer acquisition and retention, so why do 21st Century marketers ignore it? Millionaire-maker Dan S. Kennedy and direct mail marketing specialist Craig Simpson urge small business owners to take that detour away from the screen and drive the momentum built via social media and other marketing avenues into the mailboxes of their target consumers.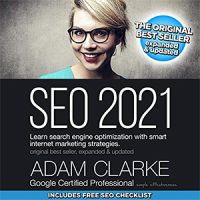 No matter your background, SEO 2022 will walk you through search engine optimization techniques used to grow countless websites online, exact steps to rank high in Google, and how get a ton of customers.  In this book you will find…
1. SEO explained in simple language, beginner to advanced.
2. The inner workings of Google's algorithm and how it calculates the search results.
3. How to find "money" keywords that will send customers to your site.
4. Sneaky tricks to get local businesses ranking high with local SEO.
5. How to get featured in the mainstream news, for free.
6. Three sources to get expert SEO and Internet marketing advice worth thousands of dollars for free.
7. A simple step-by-step checklist and video tutorials, exclusive for readers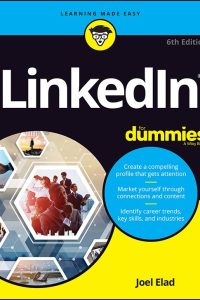 In this friendly, all-access introduction to the LinkedIn scene, entrepreneurship guru Joel Elad clues you in on the essentials. Get the latest insight on how to create an attractive profile that will make employers give you a second glance as well as techniques for making useful connections across the globe. In no time at all you'll also be right at home with the profile user interface and getting busy with adding content, searching for career opportunities, and, if you're looking to hire for your company, recruiting top candidates.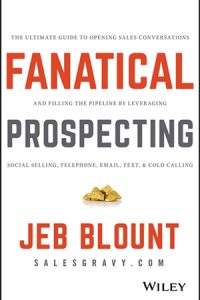 Fanatical Prospecting gives salespeople, sales leaders, entrepreneurs, and executives a practical, eye-opening guide that clearly explains the why and how behind the most important activity in sales and business development—prospecting.  The brutal fact is the number one reason for failure in sales is an empty pipe and the root cause of an empty pipeline is the failure to consistently prospect. By ignoring the muscle of prospecting, many otherwise competent salespeople and sales organizations consistently underperform. Step by step, Jeb Blount outlines his innovative approach to prospecting that works for real people, in the real world, with real prospects.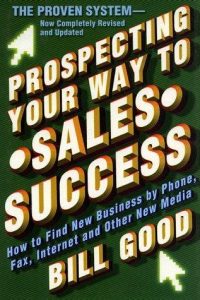 This is simply a Great Book!
If you are the kind that wants some one to cut to the chase and you hate the fluff & books with just a few pages and big print that give very limited information, you will love Bill Good's book.
Bill Good is one of the most recognized trainers of stockbrokers in this is a very similar profession to factoring brokers.  Bill goes right to work here and concisely explains, in detail exactly how to prospect and run campaigns.  He doesn't glaze over or miss anything and it's all rock solid concrete information specifically on getting qualified prospects.  Though he addresses both B2C and B2B sales prospecting, he gives plenty of script and letter examples and teaches the reader how to 'rewrite' them. This has got to be one of the best sales prospecting primers out there. Though the book is old, it's tips on how to set up and use you Pipedrive CRM are perfectly valid today.