Orientation at Campus IACFB
Registering. Welcome to Orientation at Campus IACFB
Orientation at the Campus Academy is where new and prospective factoring and commercial finance brokers as well as referrers can learn more about the factoring and alternative commercial finance industry and the opportunities that these industries offer. Through this academy, IACFB Wholesale Finance offers enterprising entrepreneurs and prospective brokers/agents the opportunity to learn more about the business of factoring and all types of small business finance as a freelance business finance consultant. The links provided in this orientation page will hopefully answer all of the questions you may have about an industry career and get you started on a pathway to success.
Register as an Academy Guest
Learn more about factoring and the business opportunity of being an industry agent or independent broker by exploring the Academy, attending our 12-Part free course, and learn more about the exceptional opportunities (and commissions) by visiting our Campus Magazine for new brokers.  
Agent / Broker Training Programs
The Campus Academy provides three (3) training and support programs for home-based business entrepreneurs.  First, the Sponsored Agents Program is basically an easy and simple lead generation program and is very low cost (under $100).  The other two "professional" programs are the Factoring 101 Program and the CFC Program which are provided for career driven freelance consultants.
No matter which program you are interested in, you will likely have questions.  This is a very exciting career opportunity if you consider yourself an entrepreneur wanting to earn a exceptional income from a home office.  A unique career that is well under-the-radar when it comes to competition.  Learn more.
How to Sign Up and Get Started
Get Started!  You will be provided free access as a Registered Guest at IACFB which provides you with everything needed to begin earning residual, life-of-account referral commissions.  This magazine is complementary to all and is a great way to get started.  If you feel you are more "career" oriented, take the time to explore the Freelance Factoring Broker (101) or Consultant Program and sign up at DataMax.
Require your choice of sponsor
No set hours. Work from where and when you desire
Strictly a home-based business based upon "lead-generation" using your WordPress Landing Page
A Low Cost Program where only minimal website hosting required
Exceptional commission paid to all agents which are "RESIDUAL" and paid for life -of-the-account
Highly professional. Start as a "part time" Sponsored Agent and work your way into a fabulous career as a full time Commercial Finance Consultant
Sponsored Agent Program $99.95
The Sponsored Agent program is basically exactly what it sound like.  As a member of this highly profitable home business, you will work part time as an agent for a "Sponsor".  Your sponsor can be a (an) …
Industry Factor
Professional Commercial Finance Consultant
IACFB
It is your choice how you enter the program but since the training is such low cost, you must ultimately be sponsored.
Sponsored Agents typically act as "interns" that generate Sales Qualified Leads (SQL) leads for their Sponsors.  This is a "foot-in-the-door"  program and is a very, very, easy home business where you have absolutely NO PAPERWORK, contracts, applications, etc. and can work when and how you desire.  Your primary job as an agent is to drive interested business owners to your provided website / landing page where they can download an informative booklet (an offer) in PDF format once they complete a short form.  As an Agent, your JOB IS NOW DONE!  Your sponsor takes over and does the rest.  If your visitor / prospect become a factoring or loan client, you will earn / share in the commission.  This is literally one of the easiest home businesses on the planet.  REMEMBER, this is a very low cost program sponsored by the factoring industry and it's very easy to join and start up.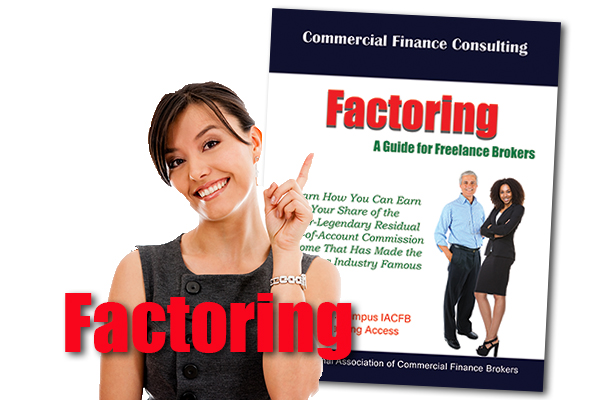 Factoring Brokers assist all types of small to mid size business owners
No limitations.  This is a worldwide business
Vast majority start with a home-based.  
A very affordable program based-on our 5-Star rated training guide 
Full exceptional commission paid by all factors and lenders to all Factoring 101 brokers. 
Factoring commissions  are "RESIDUAL" and paid for life -of-the-account.  
This is a very professional career path that can be worked part-time and full time. 
Factoring 101 Broker Program
Our most popular program for home-based entrepreneurs seeking a true "profession", Factoring 101 is based on our 5-star rated bound print training guide (200 + pages) which includes a wealth of factoring and start up marketing knowledge.  With over 900 sold through Amazon, this training guide has everything you need to became a freelance factoring broker and begin earning your share of this industry's residual, life-of-account commission income.
While this program focuses on a print training manual rather than strictly online for your product knowledge, the program also provides exceptional support articles that act as lessons that are found with your access to IACFB's magazine archives at Commercial Finance Consultants. 
For those that enter Factoring 101 with career intentions, we provide you with five (5) important and powerful features to insure your success.  These include..
Standard FB-Series Factoring Broker website featuring WordPress and Elementor drag and drop editor.  View templates
Access to the American Directory of Factors and Lenders with over 500 sources of funding for your deals
Agency Training:  How to build your business as a Factoring 101 Freelance Broker by enlisting hundreds of referral agents (Sponsored by you) and provide them with FREE training
Pipedrive CRM Training:  If you intend to enter as a Factoring 101 Broker with "career" intentions, you will need a Customer Relationship Manager to help run your business and generate leads.  Pipedrive is the answer.
Business-in-a-Box Marketing Aids:  All types of print-ready templates and download including 3-panel brochures, mail stuffers, post cards, flyers, telephone scripts, cover letters, and more.
Freelance Consultant assisting all types of small business owners
No limitations.  This is a worldwide business
Vast majority start home-based.  Many eventually opt for on office.
A very affordable program (under $500 total).  Full WordPress CFC website with blog.
Exceptional commission paid by all factors and lenders to all freelance brokers.  In the case of factoring, they are "RESIDUAL" and paid for life -of-the-account.  Loans are paid in "points".
Highly professional.  This is a very professional career path. 
Commercial Finance Consultant Program
With earnings potential well into the six-figures, a career as a Freelance Commercial Finance Consultant is a profession almost like no other. We warn you no to be fooled by the few schools that train in this industry and charge thousands upon thousands to teach you. This career is NOT that difficult and you will find your real challenges are related to marketing (like anyone in business) rather than spending weeks and weeks learning the various types of business finance.
Unlike the Sponsored Agents, here you do not work as an intern / lead generator for a single lender. Here you will work with multiple lenders and represent multiple product lines. Factoring is an important product. But as a Commercial Finance Consultant, you will also provide cash-starved small and mid-size business owners with YOUR researces for SBA loans, Revolving Line of Credit, Purchase Order Finance, Inventory Loans, Equipment Loans and Leasing, Export Financing. merchant Cash, and much much more. In fact, IACFB provides you with hundreds of actual lenders that provide all of those types of loans and more with IACFB's American Directory of Factors and Lenders with nearly 500 included in a searchable database. You will never lose a business finance deal without the ability to find the right lender
And, we say again, do not pay $5,000 – $50,000 for this training. Anyone can become a successful business factoring consultant and loan broker for a fraction of those fees through the Academy Campus here at IACFB.
Register as a Campus Guest
Register as a Campus / Academy Guest and access FREE training at the Magazine as a REGISTERED GUEST. Guest privileges provide you with unlimited access and industry "foot in the door"". The next step for most is then the Sponsored Agent Program.