Explore Your Opportunities. Learn More at the Learning Lab
Begin Your Career as a Freelance Factoring Broker
For those seeking a professional career as a freelance commercial finance consultant (factoring broker), IACFB se3ts the bar for comprehensive training, support, and affordability.  Finding out more about your career opportunities in factoring and the alternative commercial finance industry right here at the Learning Lab at the IACFB Academy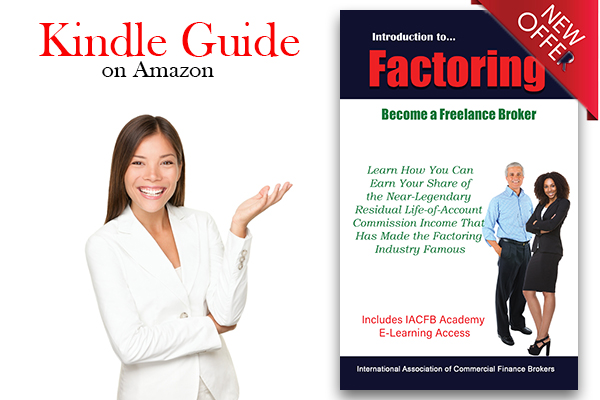 Exploring a career as a high-profile factoring broker?  Want to find out more about factoring?  Well the IACFB has your back covered with our newest publication "Factoring: Become a Freelance Broker".  This Kindle publication completely presents factoring as a form of business finance.  And it's Kindle e-pub which means you can learn this form of finance anytime and anywhere.  Add this guide on factoring for just $9.95 and gain marketing knowledge on our magazine and you are in business.    
This guide presents factoring as the powerful small business finance tool that it is.  This is a great low  cost publication for those new to the industry and also professionals that simply want to learn more.  Bookkeepers, tax preparers, and legal professionals…this is the guide for you.
Purchase this guide in Kindle format and you can learn all about factoring anywhere on almost any device.  Combine this guide with our hundreds of IACFB Magazine articles and then start counting your commissions.
Factoring: A Consultant's Guide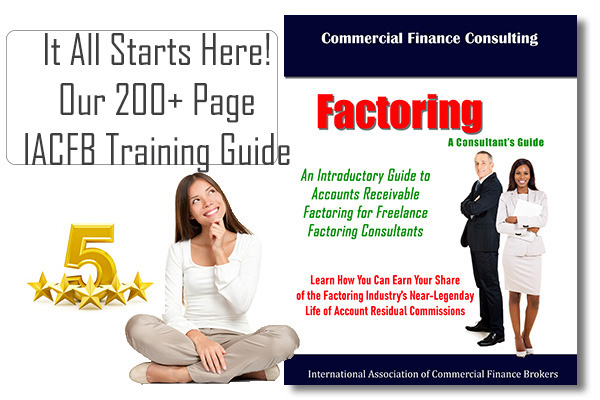 The quickest and most affordable way to enter our industry is through our Sponsored Agent's Program which includes the complete 5-Star Consultant's Guide.  With over 800 sold on Amazon books, this highly rated, 200+ page factoring broker training guide will provide you with everything you will need to launch a successful independent consulting business as a factoring broker and begin earning your share of our industry's near-legendary residual,, life-of-account commission income.  
The Factoring 101 Brokers Guide to Factoring is included with your IACFB Membership / Agent Training Program
Guide in PDF Format (FREE included)
Guide in Print format (add-on) $70.00*
Includes SA-Series Website
*FREE shipping Continental U.S.
You Tube Play List Videos
Introduction to Commercial
Finance Consulting (You Tube)
Cost of Entering
the Industry (You Tube)
IACFB Magazine for
Guests (You Tube)
Introduction to Commissions for
IACFB Members (You Tube)
Size of the
Industry (You Tube)
Types of Brokers in the
Industry (You Tube)
Zoom Podcasts, Hosted Videos, and More
Sponsored Agent, Training
Guide, and More
Recent Questions and Answers on IACFB Programs
How to Become an IACFB Member
$29.95 Annually